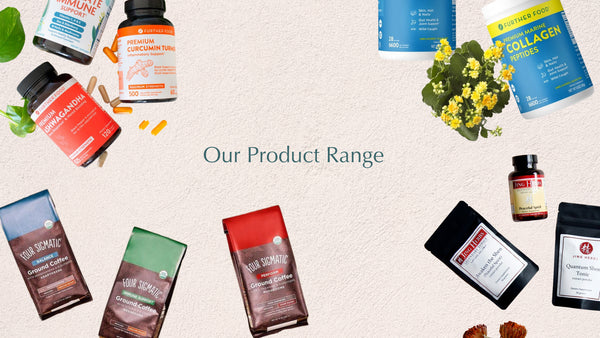 Adaptogen Supplements for Mind and Body Wellness
At The Wellness Collective, we invite you to explore the amazing world of adaptogens, nature's precious botanical treasures that are known for their ability to promote overall well-being. These powerful allies have been around for a long time, helping the human body adapt to life's challenges and achieve a state of balance and harmony.
Embark on an Adaptogenic Adventure
Our carefully chosen collection of adaptogenic concoctions and botanical adaptogens offers a wide range of wellness solutions, each carefully tailored to address specific needs and goals. Whether you want to improve your mental clarity, boost your physical resilience, or promote emotional calmness, our adaptogenic companions will be your loyal guides on the path to optimal well-being.
Immerse Yourself in Nature's Essence
Surround yourself with the green world with our thoughtfully curated collection of adaptogenic wonders. From the revitalizing elixirs of Four Sigmatic's plant-based protein alchemy to a wide range of superfoods and herbal infusions, we present the best herbal enchantments, carefully crafted to take your well-being to new heights.
Harmonize Mind and Body with Adaptogens
As you explore our adaptogenic treasure trove, you embark on a journey to create a harmonious balance between your body and mind. Our adaptogenic companions act as catalysts for a vibrant and fulfilling life, giving you the power to face life's challenges with grace and resilience.
Benefits of Adaptogenic Herbs
Embrace Inner Peace: Adaptogens act as trusted confidantes in helping you achieve inner peace and composure. They help reduce the effects of stress, anxiety, and restlessness, promoting a state of calmness in the midst of life's turbulence.
Reignite Your Energy: Our adaptogenic allies are powerful rejuvenators, effectively fighting fatigue and restoring your body's natural energy reserves. They revitalize your spirit, allowing you to start each day with renewed vigor and enthusiasm.
Strengthen Your Resilience: Adaptogens strengthen the body's natural immune system, improving its ability to defend against external threats. They strengthen your defenses, making you more resilient to life's challenges.
Navigating the Adaptogenic World
Popular Adaptogenic Herbs for Mind and Body Wellness:
Ashwagandha: A well-known adaptogen that is known for its ability to reduce stress, improve cognitive function, and promote emotional well-being.
Maca: A nutrient-rich adaptogen that supports energy levels, improves fertility, and promotes hormonal balance.
Rhodiola Rosea: A powerful adaptogen that fights fatigue, improves mental focus, and enhances physical performance.
Embrace Conscious Consumption: Potential Risks and Side Effects
While adaptogenic herbs are generally considered safe for most people, it is important to use them with caution and awareness. Some adaptogens may interact with existing medications or underlying health conditions. It is always a good idea to talk to a healthcare professional before adding adaptogens to your wellness routine.
Possible Side Effects:
Allergic Reactions: Some people may experience allergic reactions to certain adaptogenic herbs.
Digestive Problems: In rare cases, adaptogens may cause digestive problems, such as bloating or diarrhea.
Harness the Power of Adaptogenic Excellence
As you embark on your adaptogenic journey with The Wellness Collective, we encourage you to use these botanical wonders with respect and understanding. Immerse yourself in the transformative power of adaptogenic herbs, using their power to take your mind and body to new heights of well-being. Remember, the path to holistic wellness is a journey of exploration and self-discovery. Let our adaptogenic companions be your guiding lights, illuminating the path to a life filled with vitality, resilience, and unwavering calmness.